Why keep
your mouth shut?
thanks to Lerni you will be able to communicate in a foreign language
What will you find in the application?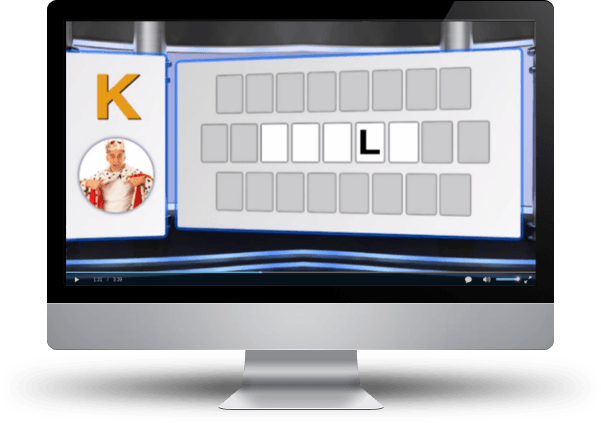 Movies
You will have the ability to learn the language thanks to educational films. The Actors are native speakers who will teach you real American and British pronunciation. To make the message more attractive, the films have been enriched with 3D animations. Films are showing life communication situations, which while watching them you will get familiar with the language, pronunciation and grammatical structures-learning new vocabulary at the same time.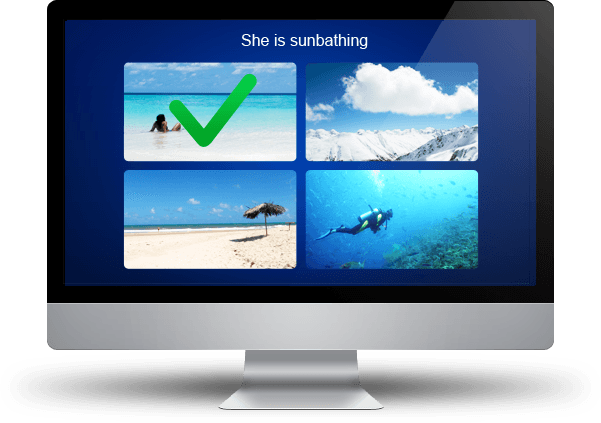 Photolessons
Exercises which are using native speakers records and professional photos. They are very important element of the course, which not only exercise automatical understanding from listening but also develops sensitivity to the grammatical structure and raises awareness of the language in general. Through photo lessons learning becomes much simpler than you suspect.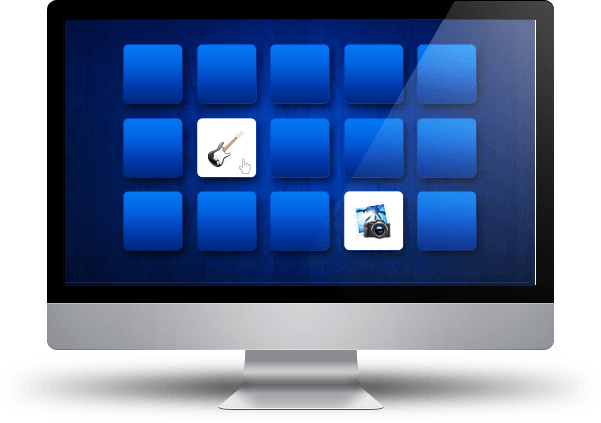 Educational games
We prove that education may be good fun! Education games provide an additional catalyst for the knowledge gained during using the course. Of both the lexical and grammatical. They bring an element of fun to learn what makes it more pleasant.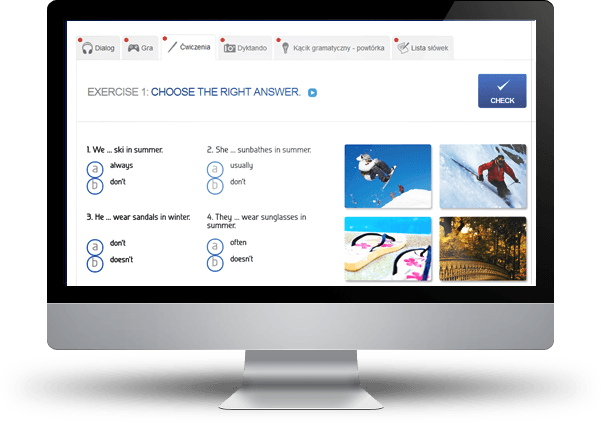 Exercises
In this place theory turns into practice. Here you can test yourself, interactive exercises are part of every lesson. During the course you will solve hundreds of exercises which will help you to remember lessons you done and thanks to automatic answers you will know immediately what you can and what needs to be done.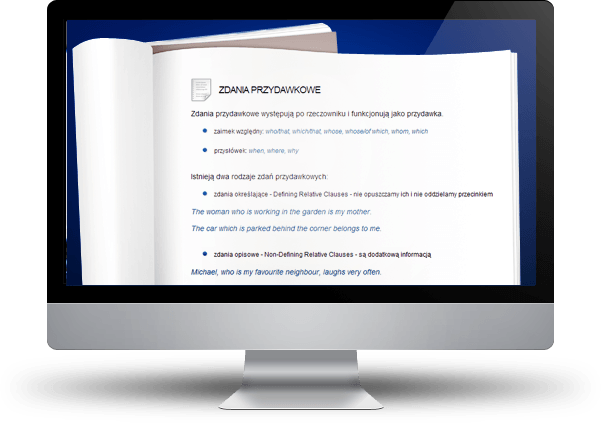 Grammar
Do you think that grammar is neither easy nor pleasant? Not anymore! Our grammar zones include quick and specific explanations. It perfectly complements multimedia of each lesson.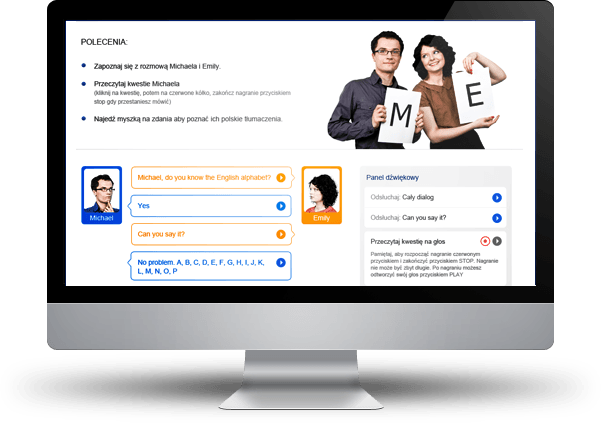 Dialogue
Don't be voiceless in a foreign country! What will give you vocabulary and grammar if you will be afraid to talk? Break with us the language barrier! Thanks to advanced speech recognition technology you will be able to play the role of Michael and Emily in dozens of situational dialogues. Learn how to make new relationships, ask for directions, order food in a restaurant and even how to hold business talks!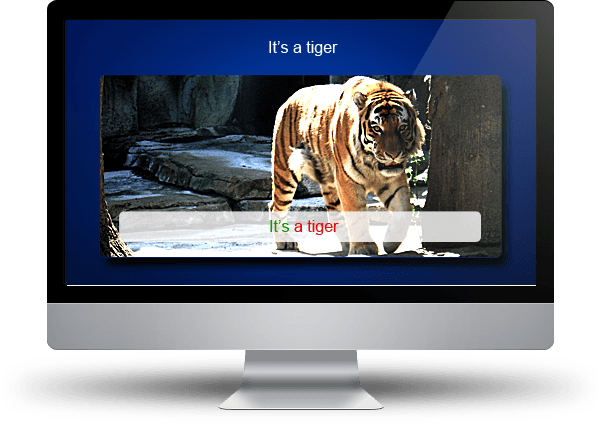 Dictation
Immediately after photo lessons, it is one of the components which indirectly shapes the practice proper pronunciation and intonation. Dictation is checking how user can deal with capture of individual words while hearing the whole sentence and checks if is able to properly write phrase which was heard.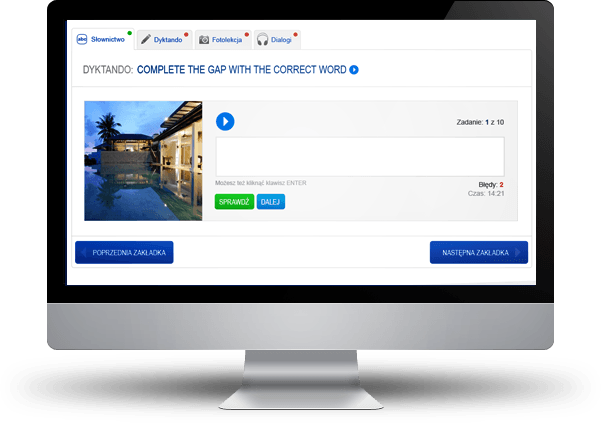 Vocabulary
It is addition to learning which is allowing us to quickly and easily repeat the vocabulary of a given range of material and listen to the pronunciation. In addition, just click "print" and learn wherever you want at any time!
What do you gain by learning languages with Lerni online?
Tailor the course to your needs
You choose the level of proficiency, without limits, you follow the course either in a step-by-step manner or according to your individual plan!
Learn whenever and wherever you want
You learn at any time of the day and in any location - doing a course in the application on the phone or using the browser on your computer.
Enrich your vocabulary
Vocabulary learning with Lerni becomes extremely simple thanks to the revision module. You learn the most necessary words and phrases, practice their spelling and pronunciation.
Control your progress
You can check your progress in the statistics and scoring system, rankings and badges motivate you to systematic learning.
Immerse yourself in the language
With the author's teaching method you immerse into the language - listening, talking, reading is what makes you learn quickly and permanently!
Get certified
After completing the course level you will receive a certificate confirming the completion of the course and your language skills.

"Learning with Lerni online is a fascinating journey to which you will return, as you return to your favourite game. You will get engaged thanks to multimedia and game-like tools available within your e-learning language course. You will learn through films, dialogues, photos and games.You will collect badges and pointsand find your position in rankings. Social character of learning experience, Facebook connection and sharing with friends are what motivates our users."
"Searching for an online course to learn a language it is really a good choice . This product, undoubtedly can compete with other applications of this kind. If you want to learn a language Lerni will prove to be a best choice"
EUR/mth
29
access to 5 languages online
all language levels
access to the course on your PC
access to mobile application

certificate

confirms your language command
Test 7 days for 1 EUR!
start learning